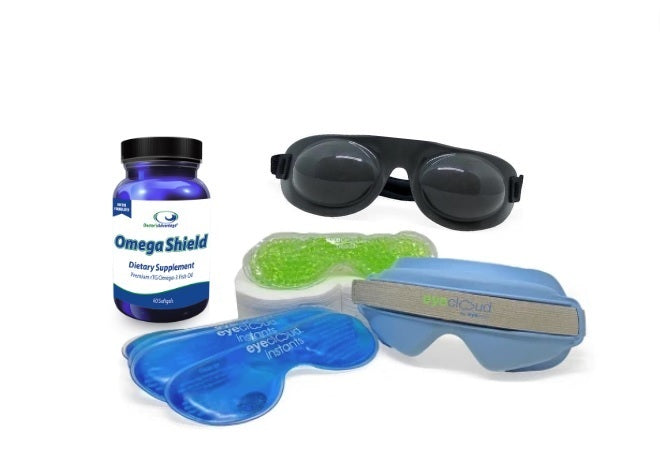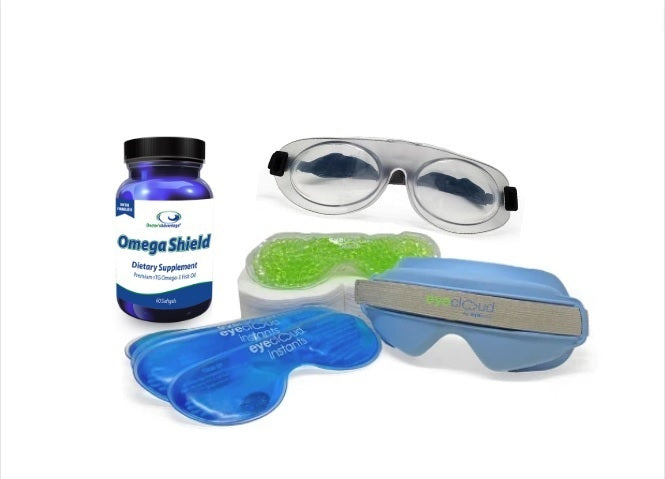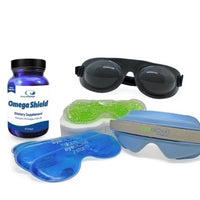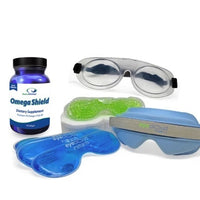 **NEW** Eye-Revive Kit *Limited Time Offer*
Eyecloud Home Treatment Kit provides soothing controlled moist heat treatments therapy.  This system also provides unlimited cold treatments to help reduce eyelid and under eye puffiness, along with inflammation and itchiness associated with allergies.
Eyecloud™ combines the goggle, reusable gel packs and moisture to sustain temperature between 102-110°/39-43° for up to twenty minutes, repeatedly. Moisture is always combined with the gel packs as moist heat therapy stimulates tear production, promotes circulation, and speeds heat transfer to the meibomian glands (inside our eyelids), loosening the oils so they return to their healthy state. Additionally, the humidity associated with moist heat therapy stabilizes the tear film and the expanded mask coverage and pressure control design evenly distributes therapy to the eyelids and surrounding skin.
Previously available only to eye care physicians, eyecloud™ now offers you an unparalleled professional-grade home remedy. The Eyecloud™ experience is the equivalent of a long, deep soak in a hot bath – it is controlled, natural moist heat, that elevates you to the clouds!
Eyecloud™ mask made in USA
Eyeseals 4.0 helps you sleep comfortably and wake up with eyes feeling rejuvenated.  
Omega Shield™ is a rich source of mercury free Omega-3 fish oils.

Package includes: Eyeseals 4.0, Omega Shield (60 softgels), Eyecloud goggle, two reusable Instant gel packs, two reusable Thermoeyes beads, cotton liners and instructions for use.