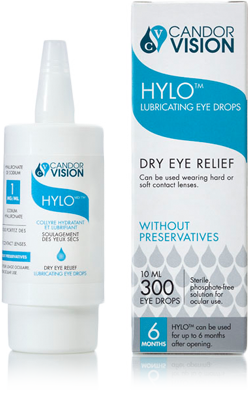 HYLO Lubricating Eye Drops
 Offers immediate comfort (no stinging upon application!) and protects your eyes from dryness and irritation for a long time.
To improve the lubrication of the eye surface in eyes that are dry, burning or have foreign body sensations due to environmental conditions including after ophthalmo-surgical interventions.  For rewetting of contact lenses to minimize dryness.  
Long Lasting Dry Eye Relief
Easy To Use
Guaranteed Sterility For 6 Months From First Day Of Use
Preservative Free
Phosphate Free

Simple Rewetting drops don't work.  Our does!

Superior Product, Superior Results
Suitable for all ages, for pregnant women and during lactation.
10 ml bottle (300 eye drops). 
Contains 1mg/ml Sodium Hyaluronate, a citrate buffer, sorbitol and water. 
Made in Germany.
For more information on this product visit http://candorvision.com/hylo/